Description
NAD+ stands for nicotinamide adenine dinucleotide. Its a coenzyme found in all living cells that's required for the fundamental biological processes that make life possible, from metabolism to DNA repair. It is found in all living mammals, yeasts, bacteria and even plants. Nothing can live without NAD+.
"THE BODY HAS THE ABILITY TO REPAIR ITSELF, HOWEVER, STUDIES HAVE SHOWN THAT THE ADDITION OF NAD+ CAN RADICALLY HELP SPEED UP THIS PROCESS."
NAD+ has two general functions in the human body: It helps turn nutrients into energy (a part of the metabolism process) and works as a helper molecule for proteins that regulate other biological activity, most notably and important for us, cell repair. NAD+ is naturally formed in the body, but like most good things, its production begins to decline with age – from about 30 years onwards, NAD levels decline exponentially, ultimately causing our cells to become weaker and eventually die. Cellular health, i.e. your cell functioning at an optimum level, requires NAD, so lower levels can cause cells to perform badly, which results in things like cancer, degenerative diseases and especially, but not exclusively, age-related illnesses such as Alzheimers and Dementia – all of which can, in turn, put mounting pressure on our hospitals and our health services.
Oxidative stress, which is basically damage done to cells through environmental or personal habits such as smoking, drugs, blah blah – basically whatever puts your body under some kind of mild trauma at a cellular level – can actually be repaired or reversed by NAD+. The body has the ability to repair itself, however, studies have shown that the addition of NAD+ can radically help speed up this process. NAD+ given to a 2-year-old mouse can have such drastic effects that after a course of treatment, the mouse's cells resembled a 3-month-old mouse. In addicts, NAD+ has incredible effects, even reversing some of the damage caused by alcohol and narcotic abuse and there are many notable clinics across the world that use NAD+ as part of their recovery programme.
Research has shown that NAD+ can contribute to repairing and even lengthening telomeres. Amazing news when telomere degradation is the basis of most major health issues, especially age-related ones. Imagine your DNA is like a shoelace, with rubber caps at each end that stop the lace unravelling. Telomeres are the rubber caps and as we age, the rubber shortens. When it gets too short, it can no longer hold the DNA strands together and it essentially unravels causing the DNA to be totally defunct. Cue curtain. The End.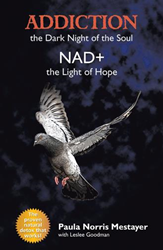 In her new book, "Addiction—the Dark Night of the Soul; NAD+—the Light of Hope" (published by Balboa Press), psychotherapist Paula Norris Mestayer shares her nearly 20 years of clinical experience successfully treating addiction — along with depression, PTSD, and other brain diseases — with intravenous infusions of NAD+, a natural coenzyme of niacin. The treatment enables patients to kick opiates, alcohol, benzodiazepines, methamphetamines and more, in 10 days — with minimal withdrawal symptoms or cravings.
In her book, Norris Mestayer shares clinical evidence that addiction is a brain disease — and that when the brain is treated it can heal. She asks why the opioid epidemic is being treated simply by substituting replacement opioids when her experience demonstrates a better way to address the problem. In laymen's terms she explains what is known thus far about why NAD+ is effective. Her book also shares the inspirational stories of people who have journeyed through addiction's "dark night of the soul" and found their way to health, wholeness and freedom once again.
"In just a week, some signs of aging in muscle and other tissues had been reversed so much so that the researchers could no longer tell the difference between these 2-year-old mice (70 year old human equivalent) and the tissues of 4-month-old mice (26 year old human equivalent).
In a broad sense, NMN improves blood flow in the same way that exercise does, as it interacts with a family of molecules called sirtuins. This means that if NMN works as hoped, it would be an exercise mimetic, and using it would have similar benefits to actual exercise; this could be useful for older people who are already suffering from loss of mobility and cannot exercise. It also has potential as a preventative for vascular aging in general and for improving tissue regeneration and wound healing."
"They had already established that NAD+ could be useful for treating various diseases of ageing, female infertility and also treating side effects of chemotherapy.
In a paper published in
Science
today, the Harvard-led team identifies a critical step in the molecular process that allows cells to repair damaged DNA.
Their experiments in mice suggest a treatment is possible for DNA damage from ageing and radiation.
It is so promising it has attracted the attention of NASA, which believes the treatment can help its Mars mission."
"A group of researchers believe they're getting closer, however, thanks to a compound called nicotinamide adenine dinucleotide, or NAD+ for short.
"NAD+ is the closest we've gotten to a fountain of youth," says David Sinclair, co-director of the Paul F. Glenn Center for the Biology of Aging at Harvard Medical School. "It's one of the most important molecules for life to exist, and without it, you're dead in 30 seconds."
NAD+ is a molecule found in all living cells and is critical for regulating cellular aging and maintaining proper function of the whole body. Levels of NAD+ in people and animals diminish significantly over time, and researchers have found that re-upping NAD+ in older mice causes them to look and act younger, as well as live longer than expected."
"Although the reason NAD+ declines with age is unclear, this work provides a plausible explanation for why DNA repair capacity declines as we age (24), pointing to NAD+ replenishment as a means of reducing the side effects of chemotherapy, protecting against radiation exposure, and slowing the natural decline in DNA repair capacity during aging."
Methuselah Longevity does not provide medical advice, diagnosis, or treatment. These website's statements have not been evaluated by the Food and Drug Administration. These products are not intended to diagnose, treat, cure, or prevent any disease.